Facebook released some new status privacy features. It allows you to tag other users in your status, add location (I think this is what happened to Places), and determine who gets to see each status message. This is all handled in a series of controls at the bottom of the status pane: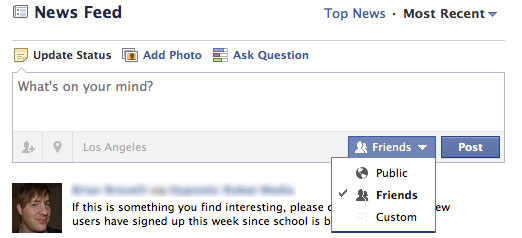 It allows you to choose Public, Friends, Friends of Friends, or even create custom groups of individual users. You can also specifically hide a post from a user ("No need for Auntie Barb to see this…"). I think it's great that Facebook realized that a place check in was just another flavor of status message and rationalized the controls to do both.
These changes also seem to be a response to Google+'s ability to function as a "Status Switchboard."  One of the really attractive things about Google+ is the ability to control who sees what content with a pretty high degree of control.  I don't think the Facebook implementation is as elegant as Google+'s Circles, but the ability to specifically exclude someone from a status message is nice to have.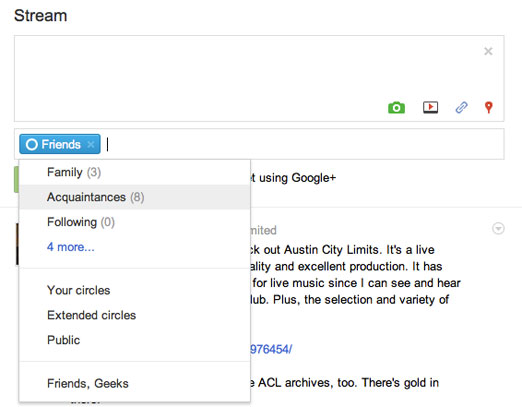 Google+'s strength is that your groups are already defined and you can create a union of groups and individuals and build the appropriate audience quickly.  I assume the Facebook changes will prompt an update to Google+ to allow for exclusion from status messages.  Maybe we'll end up with a really elegant, boolean way to determine who gets to read what on our walls.