So, WolframAlpha has been out a while now and I've had several chances to use it. Occasionally, I've used it when I needed it. It always takes a while for a tool to take root in my psyche. Occasionally, a tool proves itself so useful that it takes root quickly (like Google, back in the day). WolframAlpha has proven itself to be that useful.
The power is that you ask a question and you get an answer. Google is great when you're not exactly sure what you're looking for. You cast a wide net and then pore over the results for a source that may provide the content you're looking for. It's also great for locating things (like a particular website the name of which you can't remember or that image/video you saw but can't remember where). Google allows you to describe something and it will return results based on that description.
WolframAlpha, on the other hand, is ready to provide the A to your Q.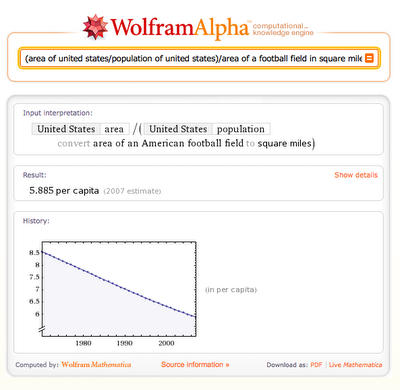 For instance, I was curious just how much space there was for each person in the US. So, I fired up WolframAlpha and typed the query shown above. And it gave me the information I wanted (i.e. "You have roughly 6 football fields of space, so why are you talking so close?"). In addition, you can make comparisons by editing the name of the country (Japan, for example, only has half a football field per capita), or you can duplicate the query separated by a comma to see the results side-by-side.
I think this tool will only become more powerful and more useful as time goes on. As the database grows and the ability to parse language gets better, it will be everyone's first choice when looking for a quick answer.