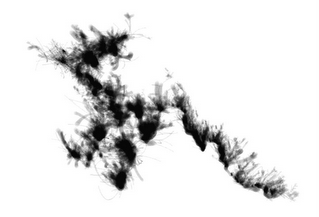 What you're looking at is a visualization of the dialog from the movie "The Apartment" which was generated by Cinematic Particles. I'll let the site explain what's going on in detail, but the image above is a form of analysis of the dialog stored in the subtitle files for the movie – different dialog patterns leave different visual patterns.
One of the reasons I find this particularly interesting is that one rapid-fire dialog-driven movie, like His Girl Friday, begins to look a lot like another rapid-fire dialog-driven movie, like Pulp Fiction. If this type of analysis were performed on other facets of movies (say, dynamic range of volume over time or the speed of edits) we could come up with a visual profile for a movie. Those profiles could be compared and, based on similarities, movies could be grouped and recommended.
It would be interesting to see how originals and remakes compare, as well. I imagine the splotch created by the remake's dialog trail would never be as good as the original's.