We went out this past weekend to celebrate the birthday of yours truly. We went to a place that had recently opened in our neighborhood in a location that used to be a speakeasy. They still had the original "escape hatch" from when it used to be a speakeasy. The food was pretty good, too.
The reason I'm writing about it here is not because of the food or atmosphere, but because (being the geek that I am) the hand dryers in the bathroom were awesome. It was my first encounter with the Dyson Airblade.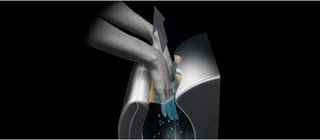 Not only did it work well – it looked great, too. The same attention to style that goes into the vacuum cleaners was delivered here. At first glance, you know how to operate it. The shape of the opening makes it clear that your hands should be inserted there. Once you do, the motor (which is surprisingly quiet) kicks on. Pulling your hands out causes the layer of compressed air to push the moisture off the ends of your hands. It's basically the same way your car gets dry at the end of an automatic car wash.
It took a couple of passes to get the timing correct – the whole process takes about 12 seconds. If you remove your hands to fast, they are still damp. However, 12 seconds is still a fraction of the time a traditional dryer takes.
At home, I think a towel's still faster, but it sure would look cool in my bathroom…