One of the radio stations in Chicago, WLUP, was having a "you-fer" weekend this weekend. That's a pun on "two-fer," which means the station plays two songs in a row by each artist, for the uninitiated. This usually happens on Tuesday, which ends up being called "Two-fer Tuesday." What was interesting about the you-fer was that the station picked the first song by the artist and let the listening audience pick the second. I thought this was interesting on a few fronts.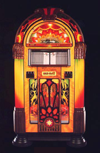 First, there have been many experiments in all-request stations throughout the years, but none of them ever seemed to take. Essentially, this turns a station into an over-the-air jukebox. I can only remember a handful of times I ever left a place where the music was supplied by a jukebox and said, "Damn… That was some fine music." This is usually due to the selection in the jukebox being chosen to reflect the character of the establishment. Delilah's and the old Tuman's in Chicago spring to mind. Other than that, you end up hearing a lot of crap. The same thing happens with all-request stations. Unless you like crap, there's a lot of patience required between songs you actually want to hear.
Second, the person who is apt to be calling an all-request station to hear a song is probably not your ideal prospective customer. More often than not, it's either someone calling because they can't afford to purchase the recorded version of the song or someone who's stuck in a situation where they can't play their copy (say, someone at work – who's too distracted to listen to ads anyway). In any case, it's hard to define a demographic for your advertisers. You'd be hard pressed to find an advertiser willing to drop bucks on the audience who listens to Ashlee Simpson and Black Sabbath. The intersection on the Venn diagram that represents these audiences is prohibitively small.
The you-fer invites listener participation while satisfying both of these concerns by letting the station maintain a format (and a corresponding demographic).
Finally, the you-fer gives the station some hard data to measure the success of its format. If you play a Zeppelin song and 300 people call in to request a second, then you play Pearl Jam and only a handful call in, you realize which music your audience is most interested in. In the long run, you let user participation drive the format (the way all-request is supposed to), but in a controlled fashion.
As a station, you may still end up at Ashlee Simpson – it just won't be in the space of one song.